PLENSET
Feature
Low-temperature curing type
PLENSET has achieved low curing temparature at 60℃.
which, is unequaled as a curing temparature of a one component type epoxy resin adhesive.
It is therefore applicable to heat sensitive component bonding and plastic bonding.
Features
Cures at the low temperature of 60degC in the short time of 30 minutes unequaled by other one-component epoxy resins
Can bond plastics, optical components including lenses, and other heat-sensitive components
Warps very little during curing because it has a low curing shrinkage ratio and a low coefficient of thermal expansion, and therefore is very effective in bonding precision components together
Different types vary in viscosity, allowing a choice appropriate to any of a variety of dispense conditions
Rapidly cures by heating at medium to high temperatures, therefore ensuring in-line curing
Uses
Assembly of CCD modules for mobile phones
Forming a bond with the periphery of an optical lens
Bonding with engineering plastics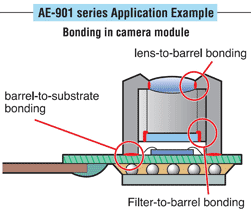 ITEM
AE-901B
AE-901H
AE-901S
AE-901T-DA
Conditions
Properties
before
curing
Appearance
Black
viscous liquid
Black
viscous liquid
Black
viscous liquid
Black
viscous liquid
Visual observation
Viscosity
60Pa・s
40Pa・s
30Pa・s
17Pa・s
E-type viscometer,
25degC, 20rpm
Thixotropic index
1.1
2.0
1.4
2.0
E-type viscometer,
25degC, 2rpm/20rpm
Specific gravity
1.5
1.5
1.5
1.4
25degC
Gel time
120sec.
at 80degC
105sec.
at 80degC
100sec.
at 80degC
100sec.
at 80degC
Hot plate
Recommended cure schedule
30min.
at 60degC
30min.
at 60degC
30min.
at 60degC
30min.
at 60degC
Convection oven
heating
Properties

after
curing

Lap shear strength
16N/mm2
15N/mm2
16N/mm2
17N/mm2
mild Steel plate
2.7N/mm2
3.9N/mm2
3.8N/mm2
3.4N/mm2
polycarbonate
Cure shrinkage
2.8%
2.2%
2.5%
1.9%
Calculated from sp.gr.
before & after cure
Glass transition
temperature
55degC
50degC
50degC
44degC
TMA
Coefficient of
Thermal
Expansion
α1
50ppm
45ppm
50ppm
60ppm
α2
80ppm
115ppm
120ppm
150ppm
Flexural modulus
5.7GPa
4.4GPa
4.5GPa
3.3GPa
DMS, 25C
Water absorption
0.7%
0.9%
1.0%
1.3%
1h boiling
Technical data presented in this document are typical experimental values and do not signify any of the products' specifications. The data may be revised without prior notice.