PLENSET
Feature
One Component Epoxy Adhesive "PLENSET"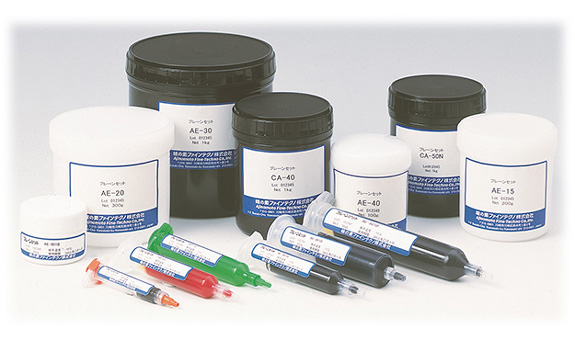 "PLENSET" is a series of one-component epoxy resin adhesives based on latent curing agent technologies which have been successively developed by Ajinomoto Fine-Techno. It has the following outstanding features made possible by our unique curing system. It plays active roles in various fields, such as precision electronic components including camera modules, semiconductor packaging, and car electronics.
Features
One-Component
"PLENSET" requires no advance mixing operation. It eliminates leftover mixture after use as in the case of two-component adhesives, thus contributing to effective use of resources and reduction in waste.
Low Temperature-Curability
"PLENSET" has achieved curing at 60degC, which is unequaled as a curing temperature of a one-component type epoxy resin adhesive. It is therefore applicable to heat-sensitive component bonding or plastic bonding.
Storage Stability
"PLENSET" has a sufficiently long pot life under ordinary operation temperatures.
Rapid Curing
Among one-component adhesives, "PLENSET" has the highest level of curing speed, thereby contributing to an increase in operation efficiency.
Wide-Ranging Line-Up
"PLENSET" offers a special line-up including adhesives of low-elasticity type and those of conductive type, and can comply with a variety of customer requests.