PLENSET
Feature
Impregnation type
Features
By utilizing a curing system of perfect-liquid type, these adhesives can cure properly, and they can attach parts together without poor curing due to separation even when they are applied in narrow gaps or in minute amounts.
They cure completely when heated at a temperature of 80degC to 120degC for a time period of 30 minutes to 60 minutes
They can be used in precision machines such as parts of HDD because the cured matter gives off very little gas. (variety:AE-780)
They have superior pot life at room temperature, and so exhibit excellent stability when being dispensed.
They meets Br and Cl requirements for halogen free as defined in IEC 61249-2-21.
(IEC 61249-2-1 definition:900 ppm maximum chlorine, 900 ppm maximum bromine, 1500 ppm maximum total halogens)
Uses
Assembly of an HDD spindle motor
Motor magnet bonding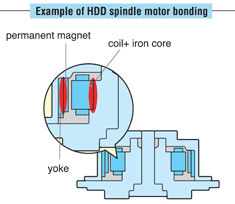 ITEM
AE-740
AE-780
Conditions
Properties
before curing
Appearance
Black
viscous Liquid
Red
viscous Liquid
Visual observation
Viscosity
13Pa・s
9Pa・s
E-type viscometer,
25degC 50rpm
Thixotropic index
1.3
1.1
E-type viscometer,
25degC, 5rpm/50rpm
Specific gravity
1.2
1.2
25degC
Gel time
22sec
at 80degC
17sec
at 90degC
Hot plate
Recommended cure schedule
60min
at 80degC
60min
at 90degC
Convection oven
heating
Properties
after curing
Lap shear strength
18N/mm2
18N/mm2
JIS K-6850
(steel plate)
T-peel strength
45N/25mm
15N/25mm
JIS K-6854-3
(steel plate)
Glass transition
temperature
51degC
101degC
TMA
Coefficient of
Thermal Expansion
α1
94ppm
83ppm
α2
179ppm
154ppm
Flexural modulus
3.5GPa
3.1GPa
DMS,25degC
Water absorption
–
0.60%
1h boiling
Shore hardness
80
88
Shore D hardness
tester
Technical data presented in this document are typical experimental values and do not signify any of the products' specifications. The data may be revised without prior notice.